Workmen compensation policy is a type of insurance policy that provides coverage to employers for any liability arising out of an injury or illness suffered by their employees while working. This policy is designed to provide financial protection to employees who suffer from work-related injuries or illnesses and to protect employers from legal liability. In this blog, we will discuss the importance of workmen compensation policy and its benefits to both employers and employees.
Importance of Workmen Compensation Policy:
Work-related injuries or illnesses can have a significant impact on employees' lives and can result in high medical bills, loss of income, and long-term disabilities. As an employer, it is your responsibility to provide a safe working environment for your employees and to compensate them for any injuries or illnesses suffered while working. Workmen compensation policy helps you fulfil this responsibility by providing financial protection to your employees and covering your legal liabilities.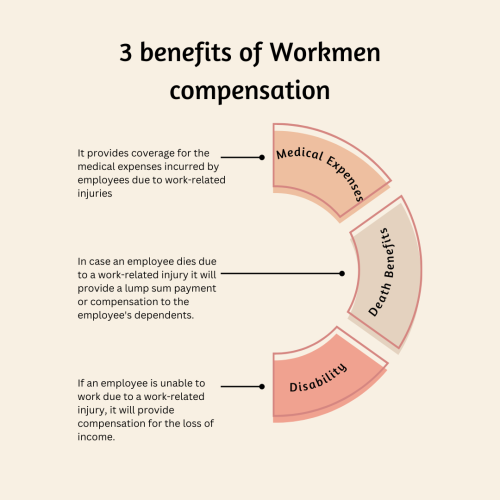 Benefits to Employees:
Workmen compensation policy provides several benefits to employees, including medical
expenses, compensation for temporary or permanent disability, and death
benefits to the dependents of the employee in case of death due to the injury
or illness. This policy ensures that employees receive the necessary medical
care and financial support they need to recover from their injuries or
illnesses and get back to work.
Benefits to Employers:
Workmen compensation policy also benefits employers by providing them with legal
protection against employee claims related to work-related injuries or
illnesses. This policy helps to mitigate the financial risks associated with
workplace injuries and illnesses and ensures that employers are not exposed to
potential lawsuits or legal liabilities.
Premium Calculation:
The premium for workmen compensation policy is calculated based on the nature of
the work performed by the employee, the degree of risk involved, and the
employee's salary. Premiums are generally lower for low-risk occupations and
higher for high-risk occupations.
Compliance:
Workmen compensation policy is mandatory for employers in some of the states, and the
coverage and benefits are designed as per the Workmen Compensation Act. Employers
should ensure that they comply with the requirements of the policy and provide
a safe working environment for their employees to reduce the risk of injury or
illness. Compliance with workmen compensation policy can also help reduce the
cost of the policy and ensure a safer workplace for employees.
Conclusion:
In conclusion, workmen compensation policy is an essential protection for both employers and employees in case of work-related injuries or illnesses. This policy provides financial protection to employees and legal protection to employers, ensuring that both parties are protected in case of workplace accidents. Employers should ensure that they comply with the requirements of the policy and provide a safe working environment for their employees to reduce the risk of injury or illness